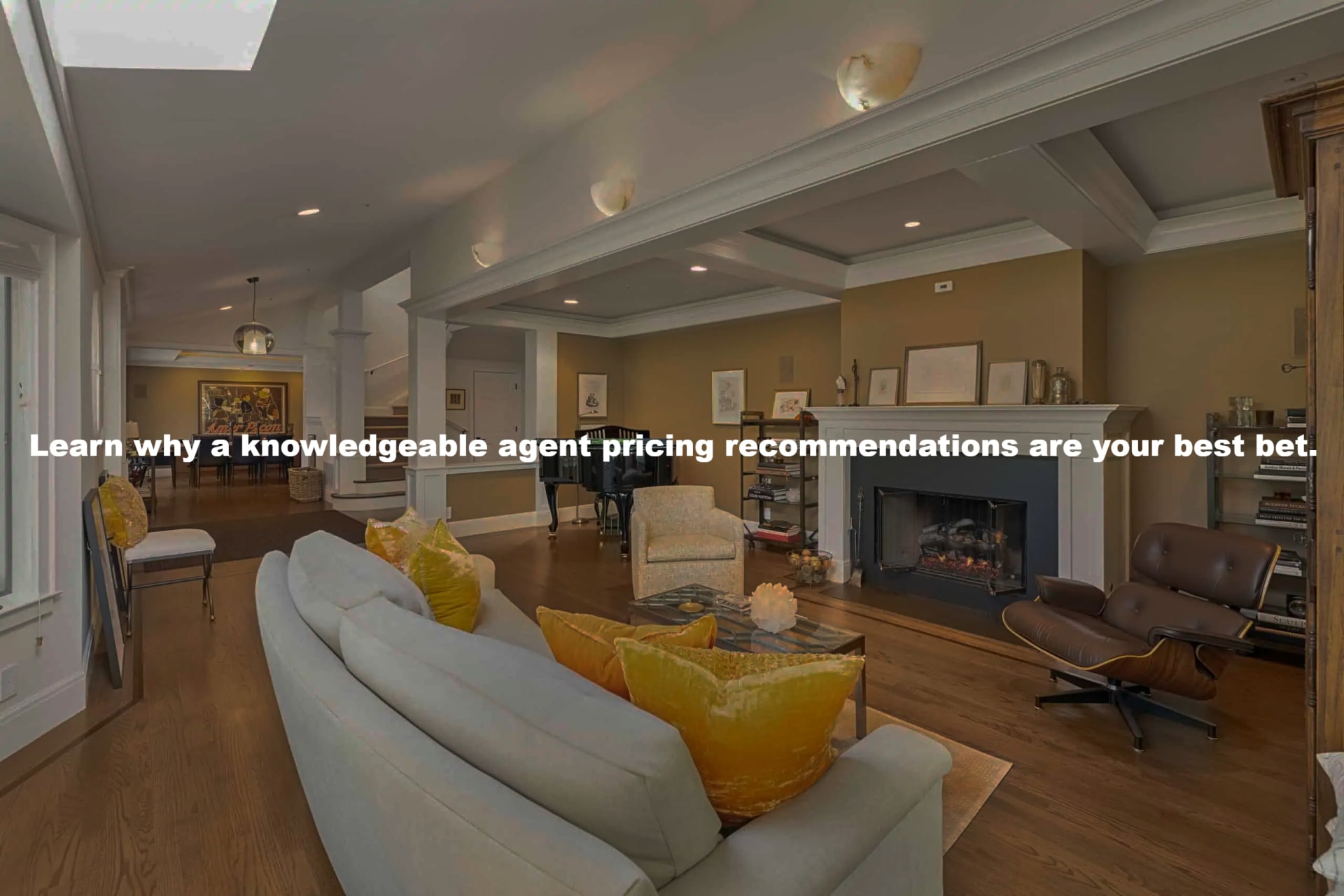 Today's buyers and sellers have come to rely on platforms like Zillow and Redfin to determine quantifiable, data-driven property value estimates. Whether you are a buyer or selling a property, assuming that these price estimates are accurate and objective assessments can be a costly error. (Learn more about how Zillow calculates estimates, "Zestimates," and their limitations below).
The Bottom Line
Homeowners should use Zestimates as a benchmark to contrast with other sources for a general sense of a home's value. A Zestimate should not be considered an appraisal. In fact, a comparable market analysis from a local real estate agent and a professional appraisal of the home are the best ways to learn its value.
Zillow Accuracy
For most major markets, the Zestimate for on-market homes is within 10% of the final sale price more than 95% of the time. The nationwide median error rate for the Zestimate for on-market homes is 1.9%, while the Zestimate for off-market homes has a median error rate of 6.9%. Within 10% error of the price in Marin County can translate to $600K on a $6M home – that's no small variance!
In fact, Zillow's online pricing estimates are so unreliable, even Zillow doesn't trust its Zestimates! Since 2018, Zillow has been using on its own Zestimates for iBuying (i.e. instant buying) homes and flipping them to make a profit. Starting in November 2021, Zillow announced it would write-off $500+ million in losses and shut down its iBuying business. The reason? They admitted their Zestimates were unreliable.
Real Estate Pricing Is Complex
According to Columbia Business School Professor and National Bureau of Economic Research member Tomasz Piskorski, Zillow's algorithm works best with cookie-cutter homes. Piskorsk explains, "There are a lot of things that affect the valuation of homes that even very sophisticated algorithms cannot catch."
Think you should be getting more because of the Zillow estimate you see online?
In one case, a seller's condo sat on the market with only a couple of low offers. He noticed that Zillow's estimate was higher than his listing price. The owner felt like his beautifully decorated home with a spectacular view was being undervalued. Afterall, all of his friends who he frequently entertained agreed with him. Using algorithm data, he wanted to pull it off the market with a plan to put it back on at a higher listing price. Rationally, in that scenario, a more objective conclusion would be that his property was actually priced too high. Possibly the algorithm didn't distinguish between his condo and single family homes in the area and overpriced it. At a deep level, the owner felt like his condo is worth more because it's his. Psychologists call this the "endowment effect." It is the phenomenon where you overvalue things you own, simply because those things are yours. You've lived in it. You've painted it. You've repaired it. You've made memories in it. At a deep level, that house is worth more because that house is yours.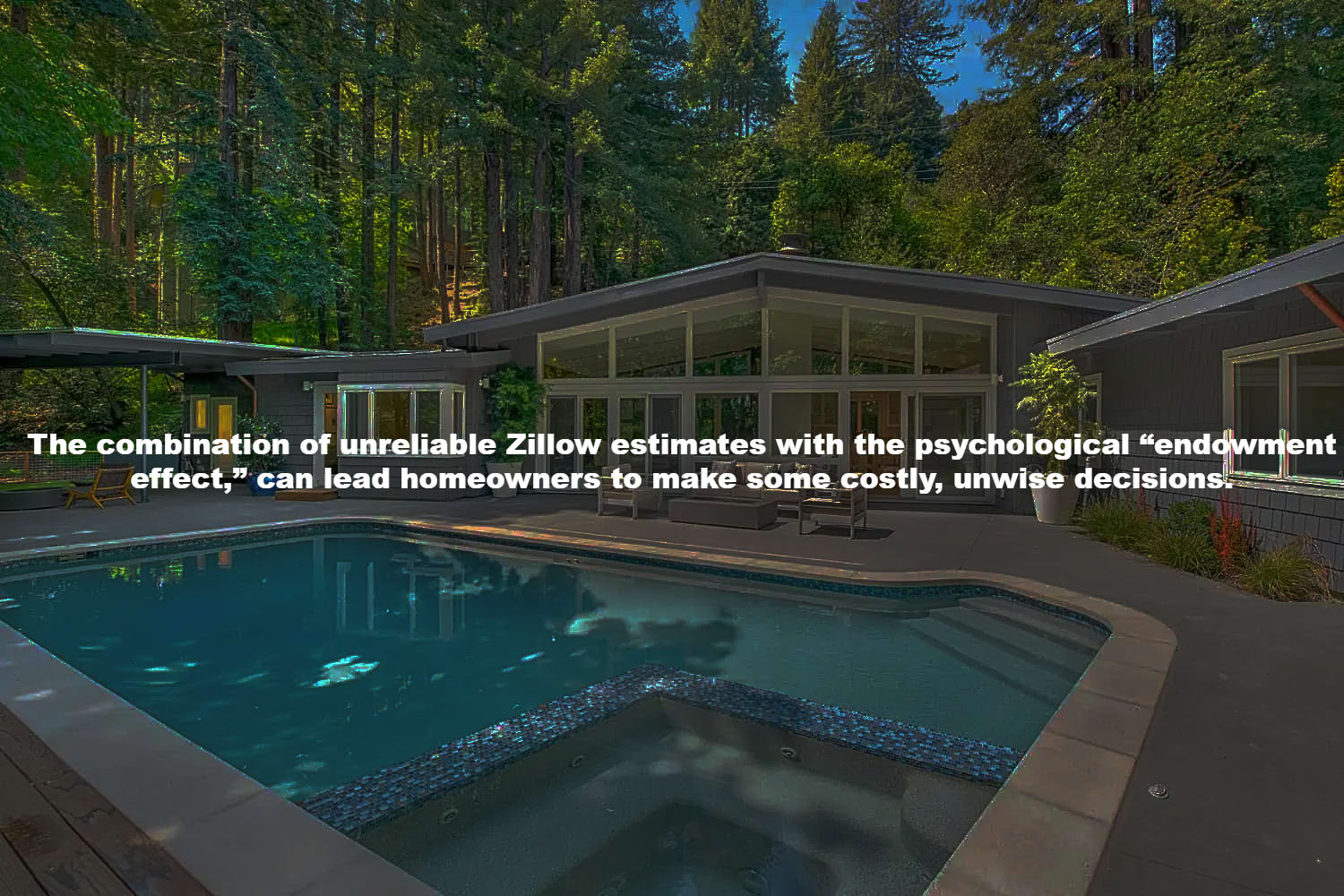 How Zillow Calculates Estimates and Limitations:
What is a Zestimate?
A Zestimate® (i.e. Zillow® estimate) is a key feature offered by Zillow, a popular online real estate marketplace. It's also the name of its home valuation model that lets consumers obtain Zestimates. Zestimate includes information from the multiple listing service (MLS) database, user-submitted details, market trends, and specific facts on homes in its proprietary formula that produces its estimates (see notes below on how Zestimates are calculated).
How Is a Zestimate (Zillow Estimate) Calculated?
According to Zillow, it "uses a sophisticated neural network-based model that incorporates data from county and tax assessor records and direct feeds from hundreds of multiple listing services and brokerages."
Zestimate factors in:
Home square footage, location, the number of bathrooms, and other details.
Active listing information like listing price, description, comparable homes in the area, days on the market
Off-market data such as tax assessments and prior sales
Market trends and figures for seasonal demand
Why Zillow and Redfin's pricing estimates can be very off:
Incomplete Property Data – Algorithms do not see each home in person; Zestimates may not reflect mistakes in property taxes paid, exceptions to tax assessments or improvements; they won't take into account the kitchen remodeled by a savvy homeowner without a permit to avoid higher tax assessments
Lags in Data Updates – Zillow is very slow in updating the final sales price of a home after it goes pending; Both Zillow and Redfin's algorithms can't update quickly enough in a rapidly declining or rising market or sense local trends
Turnover Rate – Zestimate accounts for turnover rate so Zestimates in areas where people keep their homes for longer periods of time may not be as accurate
Bias – Zillow and Redfin have entered into the business of buying and selling homes (iBuying aka instant buying) so they are now a competitor in purchasing homes and have an incentive towards providing lower estimates in markets they invest in order to make more marking up their investments when they flip remodeled homes
---
Sources:
---
About Us
Boulevard Real Estate was founded by fourth-generation Marin native Elizabeth "Bitsa" Freeman. Bitsa's expertise in the local market, reputation for genuineness, honesty and deep community connections have made her a much sought after luxury Marin County agent. Bitsa is consistently a top-producer in Kentfield and Kent Woodlands. Boulevard is proud to be certified as a Green Business by the
California Green Business Network

,
and awarded Marin IJ Readers Choice Best Realtor® Honor for four years running- 2019, 2020, 2021, 2022.