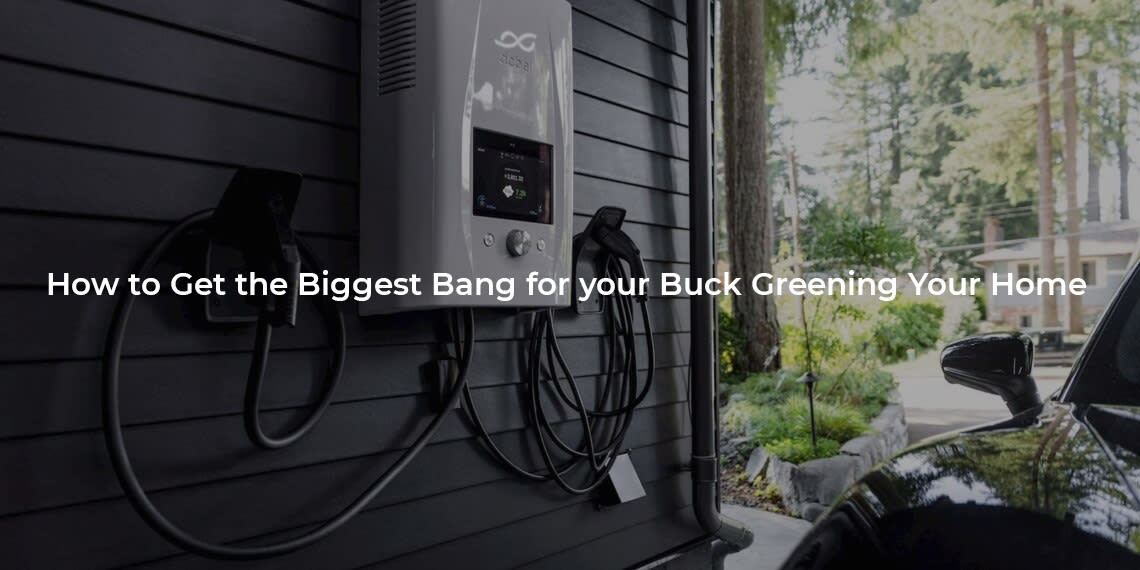 Boulevard Real Estate is a Certified Green Company committed to doing our part in helping our planet survive and thrive. We believe that tackling climate change begins at the individual level and that we can collectively make "green" choices necessary to better care for our families, communities and planet. This can seem like a daunting task! Many homeowners are unsure of which "green" home improvement projects will have the biggest impact while also being economically feasible. To demystify eco-friendly decisions for our homes, we sat down with Leed accredited Marin County architect in Sustainable Design, Julie Momchilov Johnson.
Q: (Bitsa) What are the most important, impactful additions a homeowner should consider if they want to reduce their carbon footprint when they remodel a home?
A: (Julie) When we think about carbon in terms of "the home" the single biggest impact a homeowner can have is to eliminate the need for energy generated by fossil fuels. This can include installing solar with a battery back-up system, or by choosing energy from renewable sources if a solar system is not fiscally or practically viable. MCE is an alternative to PG&E, they provide a 100% renewable option and a 100% renewable and local option, which funds renewable projects here in Marin County. Their cost-comparison data is that the 100% renewal option is less than PG&E on average, and they pay double their rates for any solar being generated and put back on the grid. Then, owners can start transitioning to electric cars without emitting carbon to power them. It's easy and has a big impact; and no one has been asked to buy carbon offsets for flights or eliminate their favorite gas range!
Q: (Bitsa) Is it economically feasible to build/remodel using environmentally sustainable building products?
A: (Julie) There are many sustainable building products that have hit the market in the last two decades, so the consumer finally has choices that are not cost-prohibitive. But what is basically free is to ask for "smart design" when working with an architect. Design solutions can be beautiful and still honor basic climate principals. The passive-solar design movement was big in the 60s and might resonate as a bit "hippy" but really it just takes advantage of a building's site, climate and materials to minimize energy consumption. We are lucky to have a coastal, temperate climate and can rely on mother nature for much of our home conditioning needs. I am the founder of JMJ Studios Architecture and we operate on these principles without explicitly sharing them with the client. We believe that restraint can encourage creativity, not stifle it.
Q: (Bitsa) Do you see homeowners adopting the addition of greywater systems (water from sinks, washing machines, etc that can be recycled for other household uses) when remodeling or building new homes?
A: (Julie) In terms of greywater systems, a "laundry to landscape" greywater system is the cheapest and easiest way to do "something" and doesn't require a permit. It's great for flat and downsloping lots, and is easy to do. Sadly, I do not see a lot of full greywater systems installed for new construction or home remodels likely due to cost. In terms of overall water reduction, clients can install a hot water recirculation system which reduces the time it takes for a hot water to turn on in a shower. Finally, rainwater collection basins for irrigation are a good choice if you have the space.
Q: (Bitsa) What are some of the new products you are utilizing or recommending for your clients when creating a project?
A: (Julie) There are many building materials available where clients do not have to sacrifice aesthetics to do right by the planet. I encourage homeowners to buy as good of quality wood flooring as possible, including FSC wood from sustainable sources. Nothing is more sustainable than a quality product built for time. You have a lot of power as a consumer, and people should exercise it. I like ReSAWN's FSC Adobo siding, Purity Limewash Paints, and you can skip the carbon by buying locally from CleTile or Heath Ceramics.
Q: (Bitsa) What else might a homeowner consider when trying to remodel sustainably?
A: (Julie) One aspect that is often overlooked is the demolition phase of the project. You can insist the general contractor demolish mindfully. With a little bit of foresight and planning, most building materials can be repurposed one-for-one and even donated for a tax deduction. You can donate: windows, wood flooring, granite, kitchen cabinets etc. If during your demolition phase you come home and say "wow, I can't believe they did all of that in two days", well then, Houston we have a problem. The most sustainable thing you can do is to reuse something and divert products from a landfill. There is a cottage industry of local folks willing to help here in Marin, so don't give up if Habitat for Humanity ReStore or others say no.
Q: (Bitsa) Any final thoughts or advice?
A: (Julie) We are all perfectly imperfect when it comes to the climate and sustainable design is one part of a larger, very important conversation. Marin Climate and Energy Partnership has interactive maps that tracks key features that affect climate "by community" and is updated annually. It provides fact-based data going back to 2005 on how your community stacks up against the balance of Marin. Also, there are many carbon calculator apps out there. I encourage everyone to investigate their carbon contribution on a deeper level and even include your children in the process. It is humbling, and necessary if we are going to make a difference while we can.
About Julie M Johnson:(include photo)
Julie is Founder and Principal Architect of JMJ Studio. Julie M. Johnson, brings strong commercial design and construction experience to private practice. JMJ Studios is a boutique, all-female design firm based in Marin County. They believe the best ideas are a mind-meld between the builder, client and designer and require the whole team to be involved in the creative process. They are modernists in form and function and celebrate each client's individual and unique style. They believe that it is all of our responsibility to bring an environmental consciousness to design.
Thank you, Julie, for sharing your expertise and insight into this complex topic. Overall, sustainable homes offer far-reaching social, economic and environmental advantages.
Benefits of Green Homes:
Energy and Water Efficiency

-

Features include solar panels, closed foam insulation, sealed attic spaces, low-emissivity windows, advanced framing techniques and energy-efficient heat pumps. Sustainable homes help to preserve water supplies with the use of efficient plumbing to reduce waste, high-efficiency appliances and advanced irrigation systems.

Low Operating Costs

- With construction techniques to ensure the efficient use of water and energy, operating costs of sustainable homes are reduced. Enhanced daylight throughout the home, solar heating and environmentally-friendly lighting are just a few of the money-saving options.

Reduced Environmental Footprint

- Green homes are durable so you'll spend less money on maintenance over time, due to the use of long-lasting, recycled materials and sustainable design in features. After all, the very definition of sustainability is "something that lasts."

Increased Property Value

- The environmentally-conscious trend for green building has spilled over into market value, for homeowners. In recent times, numerous industry studies suggest that green homes result in higher resale values, across the country. In fact, many buyers view sustainable features as "must haves."

Healthier and Happier Living

- Indoor air-quality is of utmost importance for your health and green home building incorporates products that use low, or no Volatile Organic Compound. Items like paints, cleaners and adhesives contain fewer harmful chemicals like formaldehyde, which is a well-known human carcinogen. Harmonious design, reduced costs and simplified processes that benefit the whole community, contribute to long term happiness.
---
It's now even possible to build a Net Zero home, which means your house is essentially powered by the energy created by its eco-friendly systems. Aspiring to a Net Zero home may not be a fit for you. But we can all make a positive impact by making the incremental changes that work for our families and our budgets. Click to learn more expert advice on balancing sustainability with aesthetics in landscape design in our ongoing sustainability blog series.
Sources:
About Us
Boulevard Real Estate was founded by fourth-generation Marin native Elizabeth "Bitsa" Freeman. Bitsa's expertise in the local market, reputation for genuineness, honesty and deep community connections have made her a much sought after luxury Marin County agent. Bitsa is consistently a top-producer in Kentfield and Kent Woodlands. Boulevard is proud to be certified as a Green Business by the California Green Business Network, and awarded Marin IJ Readers Choice Best Realtor Honor for four years running- 2019, 2020, 2021, 2022. We love to focus on local women owned business owners like Julie M Johnson of JMJ Studio whose mission aligns so closely with our own.